Title:
The Unexpected Inheritance of Inspector Chopra (Baby Ganesh Agency Investigation #1)
Author
:
Vaseem Khan
Goodreads description
:
On the day he retires, Inspector Ashwin Chopra inherits two unexpected mysteries.
The first is the case of a drowned boy, whose suspicious death no one seems to want solved. And the second is a baby elephant.
As his search for clues takes him across the teeming city of Mumbai, from its grand high rises to its sprawling slums and deep into its murky underworld, Chopra begins to suspect that there may be a great deal more to both his last case and his new ward than he thought.
And he soon learns that when the going gets tough, a determined elephant may be exactly what an honest man needs...
What I liked
: The characters! They were so interesting, varied, and yet so real. Just reading about them and their trails and trials in the book brought a smile to my face. Inspector Chopra is a honest, incorruptible (now retired) inspector and not happy about it. His wife, Poppy, is delightful and their relationship even more so with an element that warms your heart. Chopra's mother-in-law who stays with them, along with a myriad other characters who lend support to the story, including the villains (yes, there are villains in this sweet, heart-warming read about murders and mysteries) all are depicted uniquely and well.
The story begins with Inspector Chopra's last day at work and he is not ready to give up on the case of a young boy's murder that no one in the police department seems to be interested in solving. So he does the next best thing - he stays hot on the trail. And his companion and sidekick is Ganesha - a baby elephant he inherited. As Chopra works on solving the case, Ganesha and he form a relationship of sorts and that development is wonderful to read. Retired life is no longer the burden he thought and he sees a future he would love to be a part of - with Ganesha in it, of course. The story flows flawlessly from beginning to end with humor, sweetness, and realities all blending together.
What I did not like
: Nothing to point out here in this delightful book.
Will I read more by this author
: Yes! I am looking forward to the sequel.
Rating: A
Reread Level: 4.5/5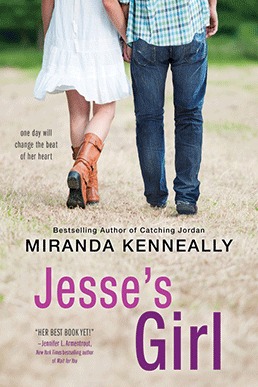 Title
:Jesse's Girl(Hundred Oaks)
Author
: Miranda Kenneally
Goodreads description
: Everyone at Hundred Oaks High knows that career mentoring day is a joke. So when Maya Henry said she wanted to be a rock star, she never imagined she'd get to shadow *the* Jesse Scott, Nashville's teen idol.
But spending the day with Jesse is far from a dream come true. He's as gorgeous as his music, but seeing all that he's accomplished is just a reminder of everything Maya's lost: her trust, her boyfriend, their band, and any chance to play the music she craves. Not to mention that Jesse's pushy and opinionated. He made it on his own, and he thinks Maya's playing back up to other people's dreams. Does she have what it takes to follow her heart—and go solo?
What I liked
: After reading this, I realized that I have always enjoyed books revolving around music or musicians (well, also around other arts, sports, movies, etc for that matter) but I love, love when the characters are passionate about something more than each other in a romance. Maya is realistic - spunky, with a loving family around her - she is a rocker who wants to dream big. Jesse is a polar opposite almost - a successful country singer in his teens, he leads a lonely life and longs for family and for a more normal life, a guy with an attitude that can irritate until you see underneath the prickly exterior - which Maya does over the course of a Ferris-Bueller-style-day-out-date. The book is cute, fun, adorable, with sweet romance and family/friend interactions that bring a smile to your heart.
What I did not like or would have liked instead
: Don't recall anything specific but maybe Jesse's attitude at times (many a time) was not the best. The book moved along with minimal conflicts and having just a little more conflict for and/or between the characters would have filled the missing piece.
Will I read more by this author
: Yes! This is the first book that I am reading in the Hundred Oak series (though it is not the first book of the series) and I requested it quite by accident from NetGalley. I will definitely be picking up the others to read as well.
Rating: B
Reading Level: Young Adult
Reread Level: 3.5/5
The books above are my first posts for book reviews this year as well as my first reviews for my reading challenges below
For
-->
NetGalley/Edelweiss
challenge - both books. These are books I read a little earlier but had made notes for reviews and finally completing the reviews now.
For
-->
What's in a Name?
(profession) and for
-->
Read Harder Challenge
(for the option, first in a series by a person of color) - The Unexpected Inheritance of Inspector Chopra (Baby Ganesh Agency Investigation #1) - Note: the What's in a Name Challenge prefers no overlap with other challenges but that is not a requirement and this book just happened to meet all the requirements. I do have one other book that meets two of these challenges so I plan to read that one as well later in the year.
For
-->
Monthly Keyword
for Jan (the word is girl) - Jesse's Girl(Hundred Oaks)
Reviews coming next - books below for elementary/middle school:
Chloe in India (for NetGalley and What's in a Name? (country)
DNA Detective (for NetGalley and for Read Harder's non-fiction book about science)
The Entirely True Story of the Unbelievable FIB
and couple more
Disclaimer:Thank you to NetGalley and to the publishers for sending me a digital review copy of the books above. I was not compensated for my review. My thoughts on these books were in no way influenced by the author or publicist. They are my personal opinions formed when I read the books ..